APS Microinverters featured in new 

Habitat for Humanity 32-home project
APS Microinverters are featured in a new 32-home affordable housing project by Habitat for Humanity.
The Harris Court development in Port Orchard, Wash., will fulfill Habitat's mission of providing safe, decent housing –- and a lower power bill as well. Thanks to Habitat's partnership with local solar providers, the new homes will include a renewable power source on every rooftop.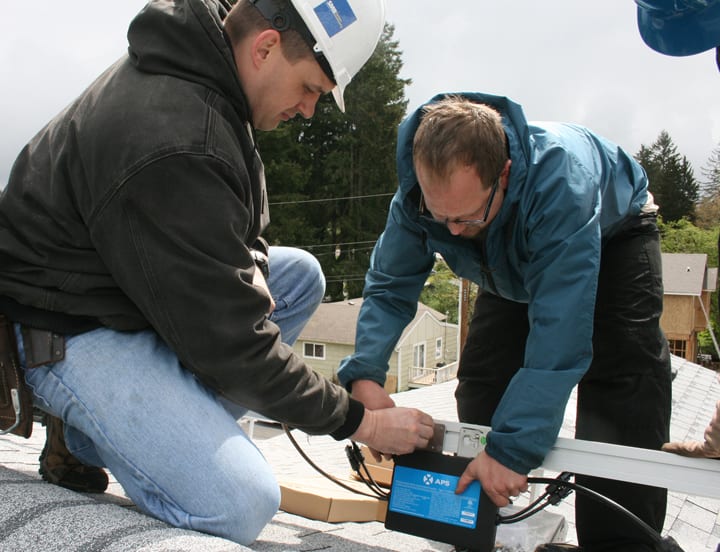 "We're proud to work with Habitat for Humanity on this fantastic project," said Tim Bailey of Blue Frog Solar, the local distributor for APS Microinverter products. "It's exciting to see our neighbors achieve the dream of home ownership, and including a solar component sets a standard we hope can be repeated again and again."
Each residential system in the Harris Court project includes APS YC500 microinverters, 265-watt PV modules by itek energy, and Sunmodo racking. Installation is by Sunergy Systems of Seattle.
Power output will be about 2.25 kW per home, said system designer Gonzi Caballero, who is working with Habitat for Humanity through the federal AmeriCorps service program.
Daryl Daugs, director of Habitat for Humanity of Kitsap County, said the idea to include solar in the Harris Court project came out of an eco-design exercise that made sustainable construction and energy efficiency the top priority.
"Our goal is really to make homes affordable for the long term," Daugs said. "That's why we're on the leading edge of green homebuilding for low-income families. We wanted this to be a super-green neighborhood."
Daugs found ready partners in local APS distributor Blue Frog Solar, of Poulsbo, Wash., and itek energy, of Bellingham, Wash., the largest PV module manufacturer in Washington state.  All solar components are being provided to Habitat at substantial discounts.
Kelly Samson, APS America president, said the company is honored to have its microinverter products included in a Habitat for Humanity project.
"These new homeowners are realizing a goal we all share, and we're very gratified to contribute to their success," he said.
The Harris Court homes are being constructed through a combination of homeowners' sweat-equity and local volunteer labor. A range of designs is planned, from three-bedroom, 1,100-square-foot "ramblers" to four- and five-bedroom, two-story homes with 1,600 square feet of living space.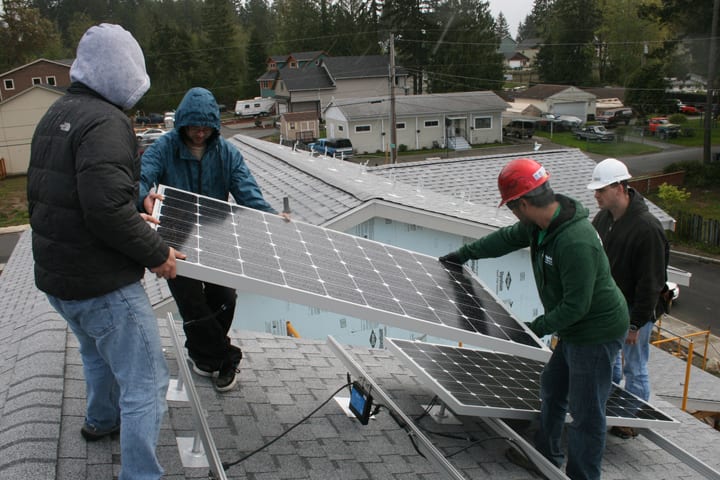 Roof slopes are oriented to the south to optimize solar potential. Even Harris Court's yards and common spaces will be sustainable — more than 80 fruit trees are being planted to create an "edible neighborhood."
The first two homes should be ready for occupancy in November. Eight more homes will be framed and enclosed by fall, with buildout of the entire 32-home project expected within three years.
Daugs said his organization is already planning its next project with a solar component, and he recently led a solar financing and design workshop for other Habitat affiliates statewide. Interest throughout the organization is high, he said.
"The Harris Court neighborhood is the coolest thing we've ever done," Daugs said. "Adding solar is the coolest of the cool."
For information on APS  solar microinverter projects, see www.apsamerica.com.
Additional information:
www.kitsaphabitat.org
www.bluefrogsolar.com
www.itekenergy.com
0
0
APsystems
https://latam.apsystems.com/wp-content/uploads/2020/06/APsystems-logo-primary.png
APsystems
2014-05-27 06:35:19
2014-05-27 06:35:19
APS Microinverters featured in new 

Habitat for Humanity 32-home project